Maintaining
Your Business
For the many years we've been in business; we have been striving to provide our clients the best quality service possible to gain their satisfaction. And they've shown their appreciation by coming back to us repeatedly.

Your only Colorado Bullhide Dealer with the ability to complete spray-on bed liners in-house, highly competitive pricing, and superior customer service. Stop by and see for yourself what a Colorado Bullhide Liner can do for your truck, Jeep, camper, RV, boat, or just about anything you want to protect!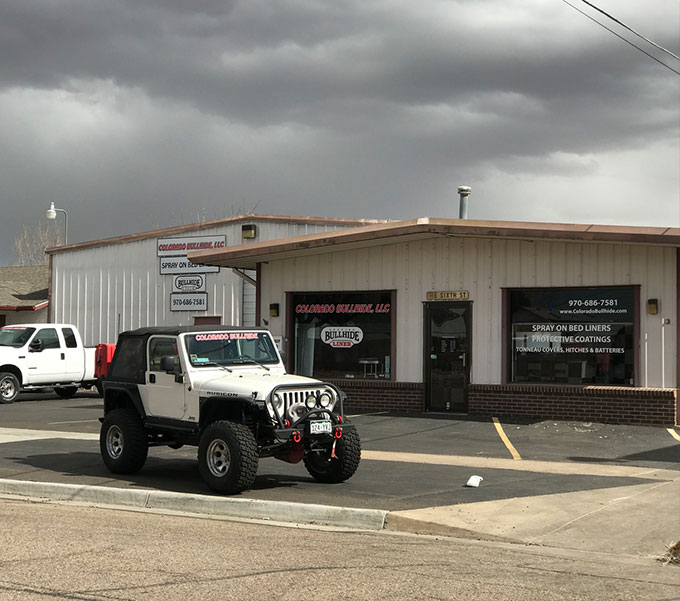 Committed to providing you excellent service, so you always choose us for your bullhide protection needs and truck accessories.
For most people, auto protection and customizing is not an easy choice, nor is it convenient. So, we want to make the process as easy and enjoyable as possible for you. We genuinely care about your vehicle and your experience, and it shows. Our first-time customers continually become our long term customers time and time again, choosing us for all their protection needs and auto accessories.
We're committed to serving you with quality and value. Bring your vehicle in today to evaluate how we can help you protect it from wear, tear, rocks, debris, and chemical breakdown. See what our commitment to quality is all about! We may not be related, but you'll feel like we're family.
Dedicated to our customers and the public!
Our technicians are skilled and have years of experience. Starting with Dan, the owner who interacts with each job we complete. Training daily to each technician that works side by side with one another. We are family! We enjoy being small enough to be personable yet professional and quick enough to keep you coming back. Most of all: we love what we do and care about your thoughts on our work. Whether it's our quick, quality, friendly service or the honesty and value we bring to every interaction, we want our customers to love us.
Giving Back to
Our Community
At Colorado Bullhide, we strive each day to make our community a better place with our generosity of spirit and commitment to helping others. It's just that important to us, and frankly, it's what separates us from the pack.
Interested in letting us help with a sponsorship?
Reach out to us via email and let us know how we can help others in our community.  If it is within the sponsorship budget we would love to do so.  
WCA boys firebird corn hole tournament 2022
We like to support our local young adults while having some fun too.  The Windsor Charter Academy of Windsor, CO Boys basketball team held their first Annual Corn Hole tournament and we were fortunate enough to help them with a sponsorship.  Lots of fun with Great people!