Bullhide Spray-On Truck Liner
February 2, 2021
/
/
Comments Off

on Bullhide Spray-On Truck Liner
Spray-On Truck Bed Liners
I recently purchased a new work truck and it did not have any type of bed liner. It appears that most of the truck manufacturers have decided to sell trucks without any type of bed liner due to the popularity of spray-on liners. Needless to say, I decided that a bed liner was necessary to protect my new truck. So I did some research and pricing on spray-on truck bed liners and decided to have a Bullhide Spray-On Truck Liner installed.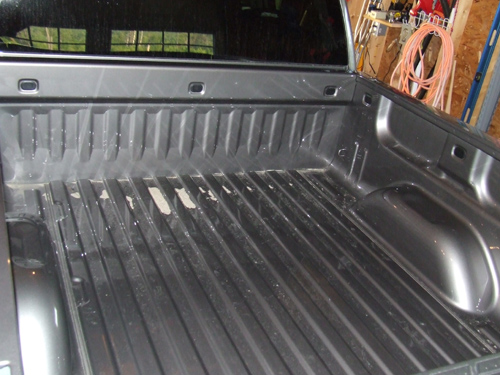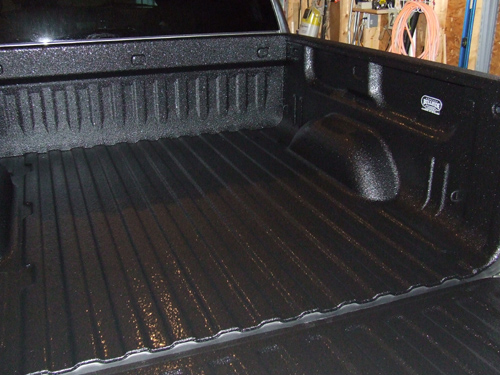 As you can see the new Bullhide spray-on bed liner is black and it has quite a texture to help keep items from sliding around in the truck. The whole process only took half of a day and it looks great. The spray-on liner is about 1/8 inch thick and it looks extremely durable. There's no doubt in my mind that this will perform very well and help protect my new truck from damage.
Cost & Benefits of Spray-On Truck Bed Liners
The average Bullhide truck bed liner costs about $500 and it takes 4 to 5 hours. I have some friends that sell vehicles and they all say that spray-on truck bed liners hold their value and certainly pay off at trade-in or selling time. The Bullhide spray-on truck liner comes with a lifetime warranty. I spoke with several guys that have the Bullhide liner and they all raved about it.
Spray-on liners out-perform the older plastic drop in style for several reasons. First of all the liner won't slip around and cause chafing and scratching of the paint which will eventually result in corrosion. Secondly they liner was crack or break when you drop something heavy into the bed of your truck. All and all spray-on truck liners are the industry standard now for truck bed protection.
This post is brought to you by: HomeConstructionImprovment.com
Written By: Author Todd Fratzel
Link to Original Post: https://www.homeconstructionimprovement.com/bullhide-spray-o-truck-liner/